Back To Our Services
Fixing Openers of All Types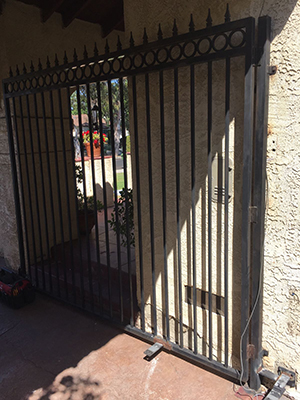 Modern gates are equipped with openers, which feature a motor and a set of hardware parts. If your device is malfunctioning or has stopped working completely, you can rely on our company to repair it. Our work starts with inspection and testing. If there is a broken part such as a chain or a sprocket, we'll replace it with a matching one. You can rely on us to fix the motor or any other electronic component effectively. In case a component has failed completely, we will install a new one. When required, our service includes programming to ensure perfectly smooth operation. Our company works with practically all opener brands.
Professional Rotten Gate Repair
Wood gates are absolutely beautiful, but they may start to rot over time due to inappropriately selected or applied paint. It is usually quite easy to spot the rotting sections. They are darker in color and soft to touch. If you've noticed this kind of problem, report it to us right away to repair the affected panels and posts. We work meticulously to remove the rotten wood and fill and seal the holes. In the end, your gate will work perfectly. Keep in mind that if you procrastinate, one day it may be too late for repair. In this case, panel and/or post replacement will be the only solution.
Solving Issues with Tracks
One of the most important components of a sliding gate is the track which guides the wheels during the opening and closing of the unit. It is made from heavy-duty galvanized steel. As a result, it is strong, rust-resistant and durable. However, this doesn't mean that you won't ever have any issues with it. If you have a bent track, don't hesitate to use our gate repair services. Rely on us to straighten it so that your gate can close fully. If it's broken, we'll install a new one of the same design and size in its place.
To get professional repair for your automatic gate quickly, call us at "Garage Door Repair Montclair" now!
Back To Our Services